Situated in the diplomatic enclave of New Delhi, in close proximity to the corridors of power in the capital city, ITC Maurya has long been the favoured accommodation of heads of state like US former President Bill Clinton, US serving President Barack Obama, Chinese Premier Li Keqiang, Afghan President Hamid Karzai, royalty and business leaders from across the world. ITC Maurya a premier 5 star luxury hotel in Delhi is a tribute to the Golden Age of the Mauryan Dynasty – the first dynasty of India's empire builders dating back to the 3rd century BC which gave Indian history it's golden age where art, culture and architecture flourished. It was one of the world's largest and most powerful kingdoms at its zenith.
Me and my colleague Rohit Kumar Singh visited ITC Maurya for the first time for evening coffee and dinner.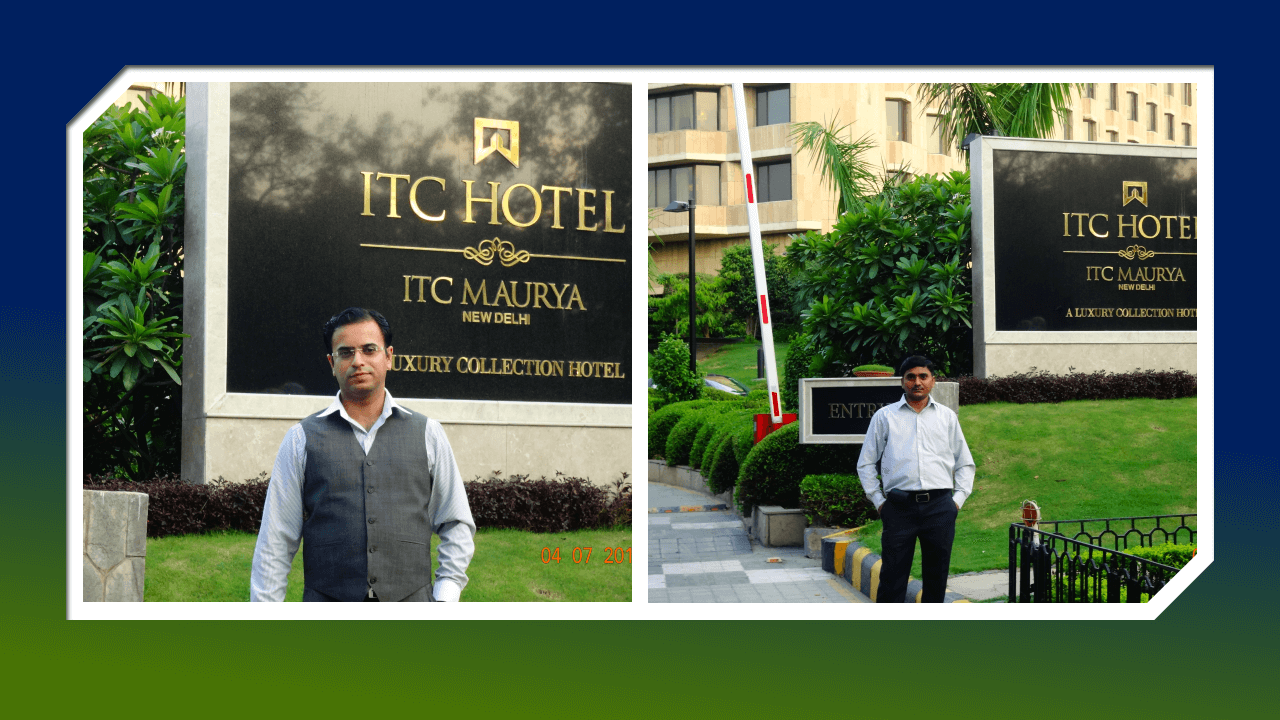 We began our tour of ITC Maurya by entering into the magnificent lobby area and clicked some nice pictures there. Then we headed towards Pavillion restaurant to enjoy our evening coffee. We ordered espresso with double shot but didn't find the taste interesting. Then, we ordered Cappuccino.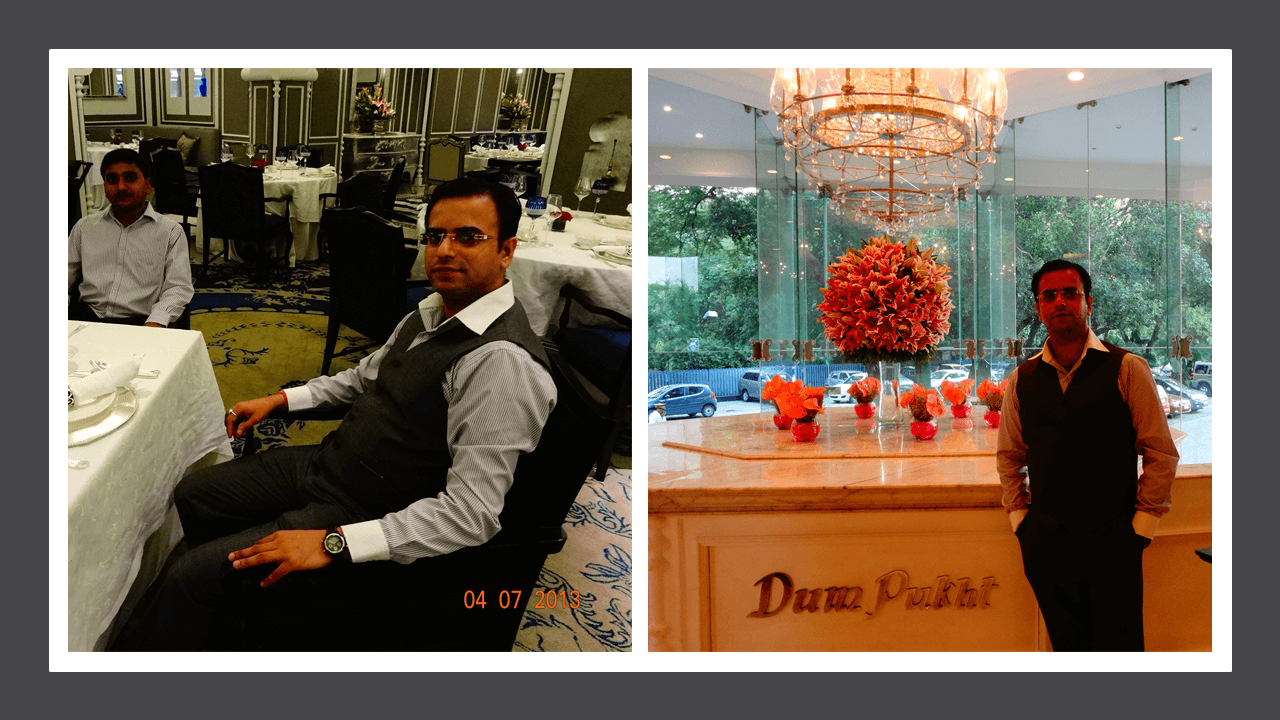 After that we visited different places like The Golf bar, ITC towers entrance, award winning restaurants Bukhara all located at lobby level. Then we went to see two restaurants located at terrace of the hotel. The first one we visited was Chinese restaurant The Humble House where I had reserved two seats in advance for our dinner. But on the request of Rohit we changed the location to north Indian restaurant named Dum Pukht. The other restaurant at terrace was West View which serves the European intercontinental. Both 'The Humble House' and 'West View' have seating arrangements in the open terrace area which provided us breathtaking aerial view of New Delhi from the top of ITC Maurya. We clicked some very nice pictures at these beautiful places. The staff was courteous and helpful.
Around 9 PM IST we finally decided to go to the The Golden Fork award winning Awadhi restaurant Dum Pukht for our dinner as we were getting late. Interior was just awesome with very nice cutlery on the table. Mr Sukhbir Khera warmly welcomed us and helped us to understand the menu well. On his guidance we ordered vegetarian dishes Subz Purdah (a combination of mushroom, tomato, baby corn, spinach, onion, pineapple covered with a specially made curtain of Suji and Atta). Along with that Mr. Khera recommended Khamiri roti (with curd inside) and Warqi parantha. Mr. Debashish demonstrated how to eat a rolled papad with pudina chatni, pineapple murraba and onion. The food preparation was grand. Subz Purdah curtain was cut in our front on a portable table with specially made fork and knive. Classic Hindi songs were played by the live orchestra on piano and tabla throughout our dinner. We really enjoyed our meal and ended our dinner with meetha pan.
As a thank you gesture I took a quick group photo of Mr. Sukhbir and Mr. Debashish, as Dum Pukht was crowded by that time with several guests. They happily did the honour and took the promise that my next visit at Dum Pukht would be with my family. We left ITC Maurya with some very good memories around 9:45 PM IST.
ITC-Maurya Web site: http://www.itchotels.in/hotels/itcmaurya.aspx
Also Visit
Homepage
MS EXCEL TRAINING