Me and my colleague Sunil visited The Leela Palace hotel, which is located in the Diplomatic Enclave of New Delhi in close proximity to the President's House (Rashtrapati Bhawan), Prime Minister's residence, the Secretariat, central business district and historical monument.
Born in 1922 in Kerala, Capt. C. P. Krishnan Nair, Chairman and founder of The Leela Palaces, Hotels and Resorts served in the Indian Army's Maratha Light Infantry until 1951, when he married Leela, the daughter of a successful handloom owner, who remains, even today, his inspiration. It was in 1987, at age 65, when Nair set up the first Leela hotel. The luxury hotel group manages seven award-winning hotels in India which includes prime urban locations in Bangalore, Gurgaon, Mumbai, New Delhi and magical holiday escapes in Goa, Kovalam and Udaipur. Hotels and Resorts is dedicated to extending warm, gracious, anticipatory service in settings that ideally capture the essence of India.The group has marketing alliances with Germany-based Kempinski, US-based Preferred Hotels & Resorts and is a member of Global Hotel Alliance based in Switzerland.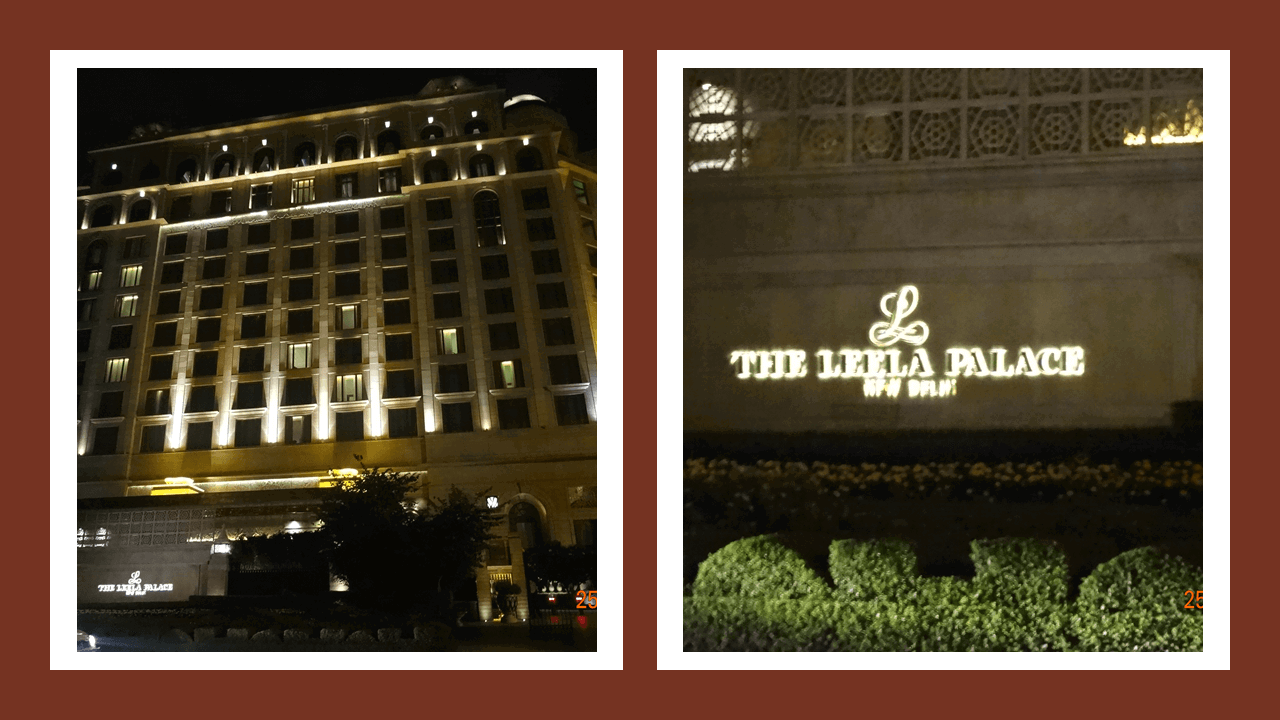 Spanning over three acres in Chanakyapuri, the hotel is ensconced near the Diplomatic Enclave which is home to a majority of foreign embassies and diplomatic missions in the capital, making The Leela Palace New Delhi an ideal choice for Head of State and delegations visits. This iconic palace style Five Star Hotel makes a significant statement in terms of architecture and intent. The Leela Palace New Delhi is destined to become one of the great hotels of the world. Its architecture is inspired by Lutyen's art and embellishment by Mrs. Madhu Nair and its levels of refinement and generosity of space mirror the great palaces of the world.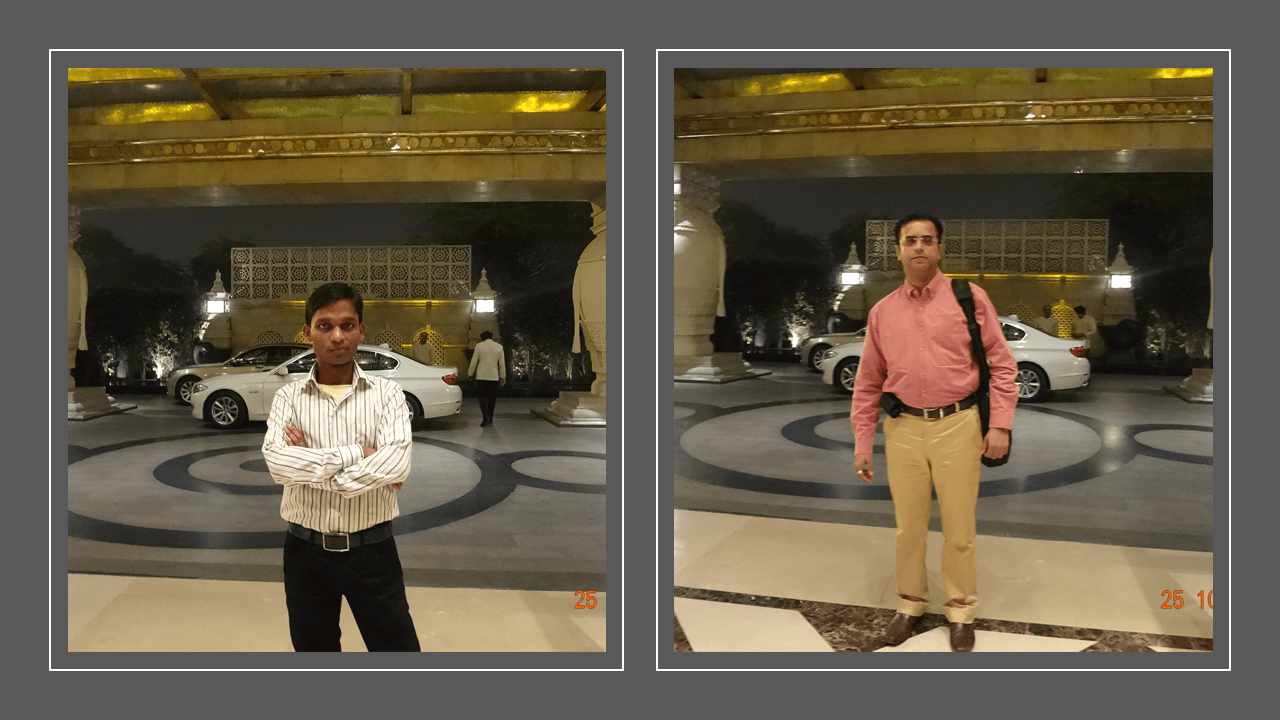 Around 7:30 PM IST I and Sunil entered in The Leela Palace. We started our tour by visiting the lobby area where we enquired about the places to visit. We then headed towards Indian restaurant Jamavar - the word actually denotes the weaving pattern on Kashmiri pashmina shawls.We booked a table for two for our dinner at 8:15 PM IST.
We visited The Qube restaurant which has an open lawn with a sculpture made by Mr. Satish Gupta. We also got to see The Library, a bar with the first edition books for the connoisseur. We visited the Lobby Lounge. Then we entered in Megu meaning blessing in Japanese. Megu serves modern Japanese cuisine. We were warmly greeted by a Japanese woman who not only took pleasure to show us the entire restaurant but also obliged us with taking some of our pictures. We then went to 10th floor where we got to see French-Italian restaurant Le Cirque.
Sharp at 8:15 PM IST we went to have our dinner in the Indian restaurant Jamavar. Miss Upasana who did our reservation greeted us warmly and helped us to get a comfortable place to sit. Mr. Sandeep helped us with the menu. We ordered Amritsari Kulcha along with Pindi Chana and Rasmalai as dessert. Being stuffed bread, we found it challenging to complete all the Amritsari Kulcha on our plates but somehow we managed :)
After paying the bill and rewarding tip to the staff, Ms Upasana offered Meetha pan which both I and Sunil savoured a lot. We left the hotel around 9:30 PM IST for our office.
The Leela Palace Web site: http://www.theleela.com/locations/new-delhi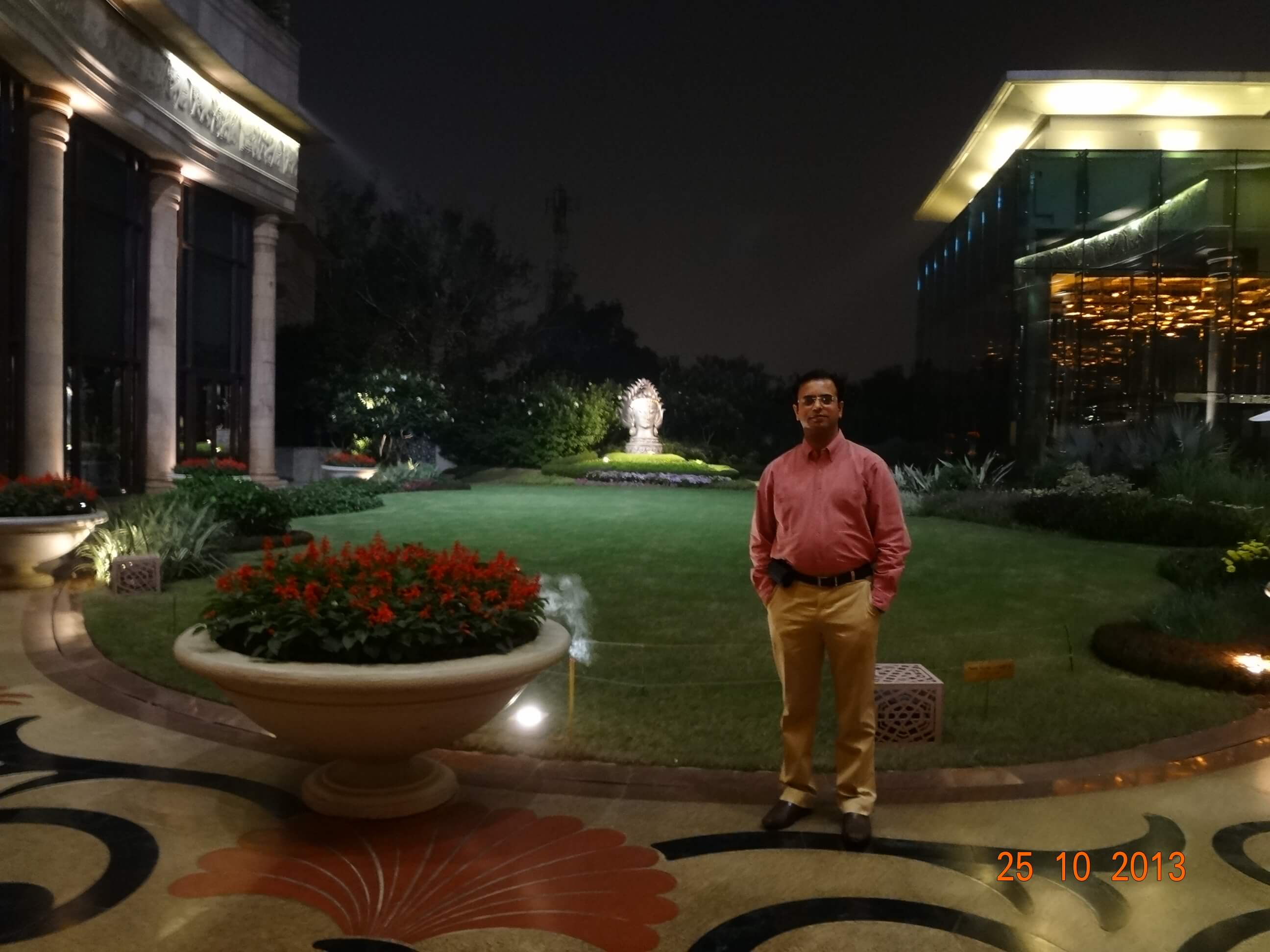 Also Visit
Homepage
MS EXCEL TRAINING