Facebook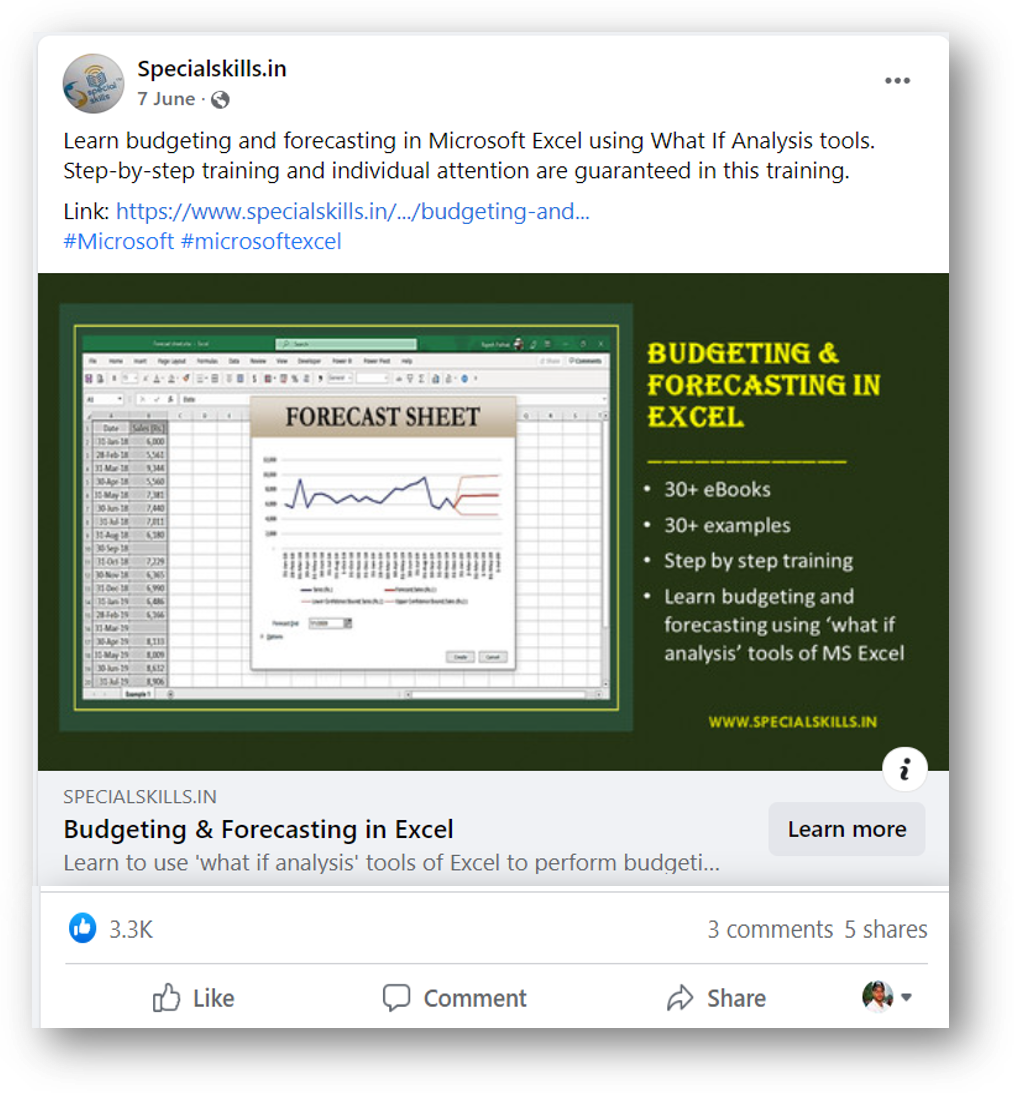 About this course
The 'Budgeting and forecasting in Excel' course includes loan calculation, sales budgeting and forecasting, bonus calculation, price manipulation, allocating budget to costs and much more.
This course is suitable for people in the sales profession, banking profession, and budget and forecasting profession.
You will learn salary increments scenarios, price quotation scenarios, manipulating tenure or monthly payment of loan, finding out ideal price to charge, allocating budget to different costs and many more examples.
No. of E-books: 32 eBooks
Training mode: Online training (Group training)
Duration: 7 sessions of 2 hours each
Training Fee: Rs. 5,000/- only
Training Time and Day: Sundays (4 to 6 PM)
Training Language: English
Training Software: Microsoft Teams (Mobile/Laptop/Desktop)
Trainer: RAJESH PATHAK
What will you get from this training?
Step-by-step training through screen sharing and videos.
Individual attention.

Practice 'Excel' files used in the training.
'PDF' files containing video tutorial print-shots with step-by-step instructions.


Email: contact@specialskills.in
Whats App: 9971911018 (Timing: 9 am to 7 pm IST)
Terms and Conditions:
Need to pay in full, in advance.
Videos used in the training won't be part of training material. Entire training material will be delivered in the form of Excel files and PDF files on receipt of full payment.
Trainees are free to discontinue the training in the middle. However, no refund will be allowed as entire training material had already been delivered at the time of joining the course.
Sessions missed by any trainee won't be repeated. The trainee needs to refer to the PDF files given to cover the missed sessions.
Check these MS Excel courses too:
DATA ANALYSIS USING PIVOT TABLE
Free BASIC EXCEL TRAINING
Other important customer links:
Terms - www.specialskills.in
Privacy - www.specialskills.in
For 'Services' web page:
Purchase Flow and Refund Policy